Harris Industries is a Preferred Supplier to

Harris Industries continues to bring you top quality products with competitive pricing.
We are pleased to present our 7th edition Catalog of Safety Identification Products.

We are excited about several new product lines that are included in this edition.

We are continuously adding equipment both in Rhode Island and California
to ensure prompt deliveries anywhere in the country.

We Do Custom Orders. Whenever you see this symbol!

Thank you for your support.
We accept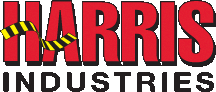 5181 Argosy Avenue, Huntington Beach, CA 92649
181 Conant Street, Pawtucket, RI 02862

800-222-6866
714-898-8048 - Fax: 714-898-7108 - Fax: 800-228-1274
info@harrisind.com

© Harris Industries, Inc. 2012

Revised 4/12