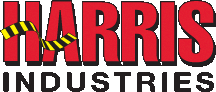 BIOHAZARD PRODUCTS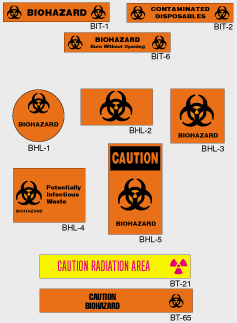 LABELS AND TAPES
Our vinyl, pressure-sensitive biohazard labels are available in rolls of 2" x 18 yards. They are perforated every twelve inches, with 54 labels per roll. Legends are printed on the OSHA approved background color for biohazards and are protected by a clear laminate.
Cat No.
Legend
Colors
BIT-1
Biohazard
Black on Orange
BIT-2
Contaminated Disposables
Black on Orange
LABELS
These easy to apply biohazard labels of various sizes quickly alert the public to the presence of biohazard contaminants. Printed on easy to read, pressure-sensitive vinyl, they come packaged 500 labels per roll.
Cat No.
Size
Quantity
Colors
BHL-1
1" Round
500/Roll
Black on Orange
BHL-2
2" x 4"
500/Roll
Black on Orange
BHL-3
3" x 3"
500/Roll
Black on Orange
BHL-4
3" x 4"
500/Roll
Black on Orange
BHL-5
3" x 5"
500/Roll
Black on Orange
BARRICADE TAPE

Cat No.
Legend
Colors
BT-21
Caution Radiation Area
(magenta/yellow)
BT-65
Caution Biohazard
Orange

Return to Home Page
---
For more information Call us at Phone: 800-222-6866 - 714-898-8048 or by Fax: 800-228-1274
or if you prefer you can contact us direct by email
---
© Harris Industries, Inc. 2004

Revised 3/31/04