Hand Tools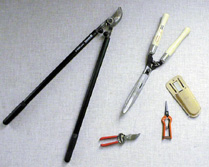 Corona Hand Pruners, Stock No. 15-BP3160 One of the most popular shears on the market! Bypass Pruner with 3/4" diameter cutting capacity. Resharpenable forged radial arc bypass blade. Fully heat treated forged coronium steel alloy construction. Slant-ground, narrow-profile hook. Precision-machined, self-aligning pivot bolt with non-slip, cushioned grips. Designed for general purpose pruning. We also carry a variety of hand pruners. Call for details.
---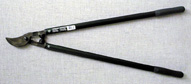 Corona Loppers, Stock No. 15-WL3351 Heavy duty professional lopper with hot dropped forged cutting blades, and tangs 8" deep. Special scythe type blades heat treated, tempered and precision ground increase cutting capacity by 20% - 30%. Ash wooden handles are steel banded for additional strength. Handle length 24", cut capacity 2-1/2".
---


Corona Hedge Shear, Stock # 15-HS3911 This shear is a favorite of professionals. Highly efficient wavy blade keeps material from squeezing out when cutting. Chrome armored, precision ground, and polished. Adjustable locking device. Rubber shock absorber. Hardwood handles fitted to serrated tangs. Cutting lengths: 9", blade length: 12".
---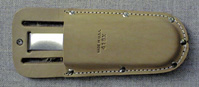 Leather Scabbard, Stock No. 15-AC7220 This leather scabbard is made from fine top grain tanned cowhide leather, securely stitched with heavy waxed thread and riveted. Clip (2" clip) slips over belt or pocket or slip belt through 2" slots. Will fit most popular hand pruners.
---
Felco #2 Hand Pruners, Stock No. 32-#2 Pruner With easy and rapid fine blade adjustment, the Original Felco pruning shears are of unsurpassed quality. The Felco standard model is suitable for all pruning work. Forged light metal handles, with cushion stop, sap-groove and wire-cutting notch.
---


Grape Thinning Shears, Stock No. 22-GT-SHEARS The GT Shears are made with forged steel and tempered steel wire springs. Size is 7-1/2". Used for cutting flower stem and ribbon.
---
We stock or can order most parts for the pruning equipment we sell.

For more information Call us at Phone:- 714-898-1311 or by Fax: 714-898-3399
or if you prefer you can contact us direct by email
Se Habla Espanol!

___________________________
---
© Arthur Enterprises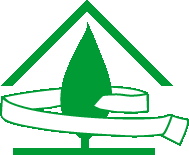 Revised 7/05