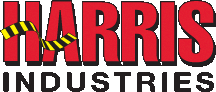 CORRUGATED PLASTIC FLOOR STANDS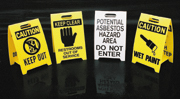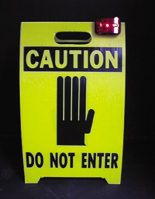 These inexpensive floor stands help alert people to hazardous areas. These 12" x 20" floor stands are printed with a different legend on each side, inside and out, for multiple usage. They fold flat for easy storage and are reusable.

New Product
Need to make your floor stands even safer? Include the NEW Flashing Safety Light (KP-10) which is perfect for increasing visibility in hard to see hazardous areas. Comes with 7 different light patterns to choose from. The 2" x 3" battery operated Safety Light flashes for over 300 hours and is great for indoor or outdoor use. Clips easily to any of our Corrugated Plastic Floor Stands. (Batteries not included).
| Cat No. | Legend | Color |
| --- | --- | --- |
| KP-1 | Side 1 - Danger Asbestos | Red & Black |
| KP-2 | Side 1 - Caution Wet Floor | Black on |
| KP-3 | Side 1 - Caution Do Not Enter | Black on |
| KP-4 | Side 1 - Caution Men Working | Black on |
| KP-5 | Side 1 - Caution Wet Paint | Black on |
| KP-7 | Side 1 - Caution Men Working Above | Black on |
| KP-8 | Side 1 - Caution Wet Floor/Bilingual (Spanish) | Black on |
| KP-9 | Side 1 - Keep Clear Restrooms out of Service | Black on |
| KP-10 | Flashing Light | NA |
| KP-11-YL | Blank Stand | Yellow |
| KP-11-WT | Blank Stand | White |

---
For more information Call us at Phone: 800-222-6866 - 714-898-8048 or by Fax: 800-228-1274
or if you prefer you can contact us direct by email
___________________________
---
© Harris Industries, Inc. 2004

Revised 3/31/04