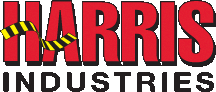 6-1/2" PIPE MARKERS

Our NEW LP-Series is a 6-1/2" pressure-sensitive vinyl pipe marker that is an inexpensive way to mark pipes and conduits. A clear laminate protects against harsh plant conditions. Roll size is 6-1/2" x 30' with a liner that is back slit every 3". A continuously repeating legend, there is no perforation in the marker itself.
This size marker is made for large diameter pipes. If a smaller size is needed, please see our Stock Pipe Marker Legends below.
Cat No.
Size
Color
LP-**
6-1/2" x 30'
(See Below)
** Add part # of stock legend requested. See below for stock legends and colors available.

STOCK PIPE MARKER LEGENDS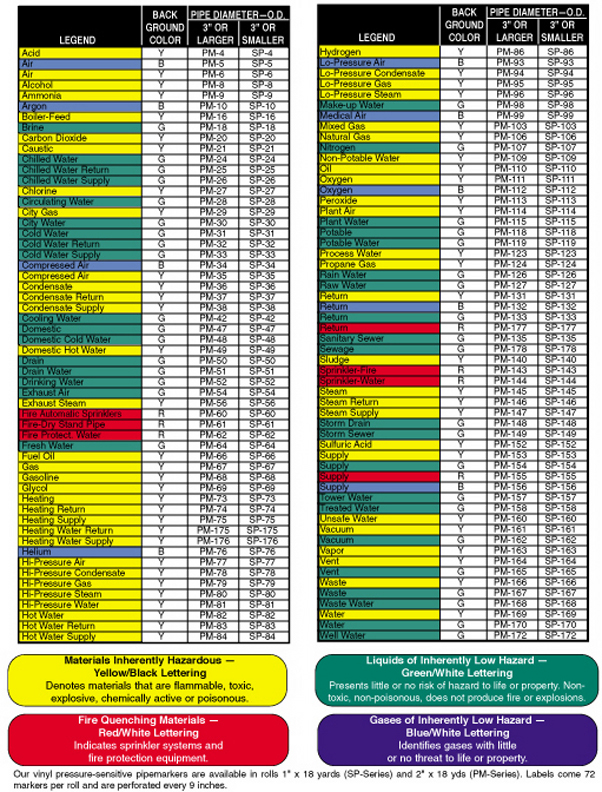 Pipe Markers Technical Specifications
PIPE BANDING TAPE

This pressure-sensitive vinyl tape provides a low cost way of color coding for identification of pipes. Colors are OSHA / ANSI approved. Use tapes by themselves or in combination with our pipe markers. See page 10 for sizes and colors.

MEDICAL GAS PIPE MARKERS

Each of our 3" x 3" pressure-sensitive vinyl markers is laminated and color coded to conform to specifications. Designed to fit pipes up to 1" O.D. Markers come in rolls of 50.
Cat No.
Legend
Legend Color
Background Color
MPM-01
Carbon Dioxide
White
Grey
MPM-02
Cyclopropane
Black
Orange
MPM-03
Helium
White
Brown
MPM-04
Medical Air
Black
Yellow
MPM-05
Medical Vacuum
Black
White
MPM-06
Nitrogen
White
Black
MPM-07
Nitrous Oxide
White
Blue
MPM-08
Oxygen
White
Green

DIRECTIONAL ARROWS

Pressure-sensitive vinyl directional arrows are used to indicate flow direction of pipe contents. Colors are OSHA/ANSI approved for pipe and conduit marking. They can be applied alone or in combination with our pipe markers.
Cat No.
Size
DA-1
1" x 18 yds.
DA-2
2" x 18 yds.
DA-3
4" x 18 yds.
DA-4
1" x 36 yds.
DA-5
2" x 36 yds.
DA-6
4" x 36 yds.
Color Code
White on Red
WR
White on Green
WG
White on Blue
WB
Black on White
BW
Black on Orange
BO
Black on Yellow
BY
To specify color, add color code to catalog number. Example: For 2" x 36 yds. white arrows on blue background, designate DA-5-WB.

ELECTRICAL MARKERS

The background color for all legends is Orange.
CATALOG NO.
PIPE DIAMETER
3" OR SMALLER
(Outside Diameter)
CATALOG NO.
PIPE DIAMETER
3" OR LARGER
(Outside Diameter)
LEGEND
SE-1
EM-1
AC
SE-2
EM-2
Air Conditioning
SE-3
EM-3
DC
SE-4
EM-4
Emergency
SE-5
EM-5
Exit Lights
SE-6
EM-6
Fire Alarm
SE-7
EM-7
Heating Circuit
SE-8
EM-8
Light & Power
SE-9
EM-9
Lighting
SE-10
EM-10
Power
SE-11
EM-11
Single Phase
SE-12
EM-12
Three Phase
SE-13
EM-13
110 Volts
SE-14
EM-14
115 Volts
SE-15
EM-15
120 Volts
SE-16
EM-16
208 Volts
SE-17
EM-17
220 Volts
SE-18
EM-18
230 Volts
SE-19
EM-19
240 Volts
SE-20
EM-20
277 Volts
SE-21
EM-21
440 Volts
SE-22
EM-22
460 Volts
SE-23
EM-23
480 Volts
SE-24
EM-24
550 Volts
SE-25
EM-25
600 Volts
SE-26
EM-26
2200 Volts
SE-27
EM-27
2300 Volts
SE-28
EM-28
2400 Volts
SE-29
EM-29
4160 Volts
SE-30
EM-30
4800 Volts
SE-31
EM-31
6900 Volts
Technical Specs

Return to Home Page
---
For more information Call us at Phone: 800-222-6866 - 714-898-8048 or by Fax: 800-228-1274
or if you prefer you can contact us direct by email
---
© Harris Industries, Inc. 2004

Revised 3/15/04