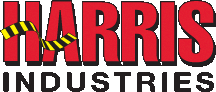 PAVEMENT MARKING TAPE

Our reflective Pavement Marking Tape is a temporary way for redirecting traffic around construction sites and permanently marking driveways and parking lots. Available in economical construction grade and heavy duty wet strength. Available in yellow and white. Please Specify YL - Yellow or WT - White.

Use our Floor Tape Applicator for quick and easy application!
| Grade | Cat. No. | Size |
| --- | --- | --- |
| Construction | PT-1-2 | 2" x 50 yds. |
| Heavy Duty | PT-3-2 | 2" x 50 yds. |
| Construction | PT-1-4 | 4" x 50 yds. |
| Heavy Duty | PT-3-4 | 4" x 50 yds. |
| Construction | PT-1-6 | 6" x 50 yds. |
| Heavy Duty | PT-3-6 | 6" x 50 yds. |
Pavement Marking Tape - Heavy Duty Grade Technical Specifications
Pavement Marking Tape - Construction Grade Technical Specifications

---
For more information Call us at Phone: 800-222-6866 - 714-898-8048 or by Fax: 800-228-1274
or if you prefer you can contact us direct by email
---
© Harris Industries, Inc. 2004

Revised 8/05