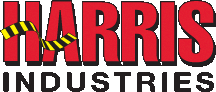 RADIATION HAZARD WARNING TAPE

This high strength vinyl-coated cotton cloth effectively combines economy with performance. Its synthetic rubber/resin adhesive, tensile strength of 45 lbs. per inch, 12-mil thickness, plus its ability to adhere to steel, make this tape ideal for use in nuclear facilities.

Features & Benefits:
Superior adhesion with clean removal when needed.
Highly conformable to irregular surfaces and odd shapes.
Hand tearable
Meets government specs A-A-1586A and PPP-T-60E.
ALTERNATING STRIPES
| Cat No. | Size | Colors |
| --- | --- | --- |
| RT230YM | 2" x 30 yds. | Magenta/Yellow |
Radiation Hazard Warning Tape Technical Specifications

Return to Home Page
---
For more information Call us at Phone: 800-222-6866 - 714-898-8048 or by Fax: 800-228-1274
or if you prefer you can contact us direct by email
---
© Harris Industries, Inc. 2004

Revised 7/05