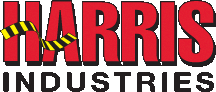 SAFETY VESTS
ANSI CLASS 1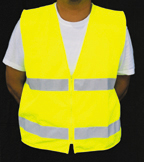 Harris Industries offers a variety of safety vests to fit your needs while conforming to safety standards published by the International Safety Equipment Association (ISEA) and the American National Standards Institute (ANSI).
Class 1 vests are for those separated from traffic such as warehouse workers, sidewalk maintenance workers and delivery vehicle drivers.
Vest contains 217 inches of fluorescent background material with 155 inches of reflective material.

ANSI CLASS 2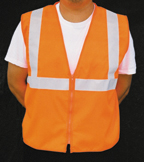 Class 2 vests are used by those who are in need of greater visibility due to bad weather or activities requiring them to be near traffic over 25 mph. The Class 2 standard is 775 inches of fluorescent background fabric with 201 inches of reflective material.
Vest is intended for such workers as crossing guards, parking attendants, airport crews, railway workers, and law enforcement directing traffic.
ANSI Class II Safety Vest - SV107X Technical Specifications

ANSI CLASS 3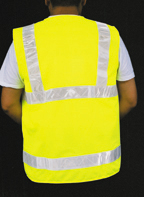 Class 3 vests provide the highest level of visibility for workers. Its use is for those working a variety of weather conditions and are near traffic greater than 50 mph. Class 3 vest requirements are a minimum of 1,240 inches of fluorescent background fabric with 310 inches of reflective material. These vests should be worn by construction crew, utility workers, survey crews, and emergency responders.

HEAVEY DUTY - SURVEYOR


In addition to ANSI specified vests, Harris also offers three additional safety vests to fit your needs: Our Heavy Duty Surveyors Vest, our Lightweight Economical Mesh and our Hybrid - Surveyor/Mesh. All are available with 1-3/8" reflective striping for added nighttime visibility. Our hybrid combines the best of both the Surveyor and Mesh vests. Custom screen printing is also available.

Our most popular Surveyors Vest is made from a high quality, washable, bright orange-red 35% cotton 65% polyester material.
Its features include two outside pockets (double pocket on left), and two inside pockets for a total of 14 compartments, zipper front and closed sides.
Stock sizes available are Small, Medium, Large and Extra-Large, however, custom sizing is available upon request. Please specify size when ordering. Order catalog number SV-110.

LIGHTWEIGHT - Mesh

Made especially for hot climates, the open weave mesh construction allows free air flow and is the most comfortable vest for hot, humid summer work. Vest is bound with black bias, finished with elastic on sides and has velcro closure in front.
Available in either a fluorescent orange nylon mesh or a fluorescent green PVC coated nylon mesh.
One size fits most, however, adjustable sides are available upon request. For the orange vest, order catalog number SV-125. For the green vest, order catalog number SV-120FG.

HYBRID - SURVEYOR/Mesh

This unique design combines the durability and pocketed zipper front of our heavy duty surveyors vest with the comfortability of a mesh back to maximize air flow in warm climates. Available in orange only. Order catalog number SV-140.

Return to Home Page
---
For more information Call us at Phone: 800-222-6866 - 714-898-8048 or by Fax: 800-228-1274
or if you prefer you can contact us direct by email
---
© Harris Industries, Inc. 2004

Revised 3/31/04