SPECIALTY BARRICADE TAPES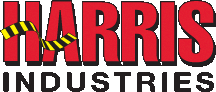 REINFORCED BARRICADE TAPE - Technical Specifications Now Available. See Below
REINFORCED BARRICADE TAPE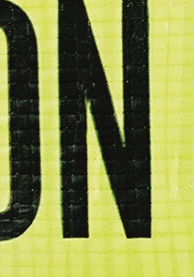 For those times you need a tape tough enough to go that extra mile, this heavy duty, highly visible, long-lasting, versatile, non-adhesive plastic tape has the stamina you need. Our reinforced barricade tape consists of high visibility safety red and/or yellow polypropylene with bold black letters. Tape helps prevent accidents by increasing visibility of hazards and can be tied, stapled or nailed in place. See close-up to the right.
| Cat No. | Size | Colors |
| --- | --- | --- |
| BTR**-5 | 3" x 500' | YELLOW OR RED |
** Add part number of stock legend requested. See Barricade Tapes for stock legends. To order, add legend # as suffix to BTR. Available in yellow or red with black copy.
Reinforced Barricade Tape Technical Specifications

NEW!
FLUORESCENT BARRICADE TAPE

Our non-adhesive Fluorescent Barricade Tape is excellent for marking hazards, danger areas and for delineating boundaries. Our tape is available in a variety of highly visible fluorescent colors (Pink, Blue, Green, Lime, Orange, Yellow, or Red). Tapes can be ordered either as solid rolls, or printed with a stock or custom legend. (See Barricade Tapes for list of stock legends).
| Cat No. | Size |
| --- | --- |
| BT-FLO | 3" x 1000' |
| | 3" x 500' |
| | 3" x 300' |
| | 3" x 200' |

NEW!
BILINGUAL BARRICADE TAPE

Bilingual tapes have been a part of Harris' standard product line for over a decade. Tapes consist of highly visible safety yellow or red polyethylene with our standard bold black letters.
| Cat No. | Size |
| --- | --- |
| BT-66AL | Caution Cuidado |
| BT-72AL | Danger Peligro |
| BT-90AL | Caution Do Not Enter/Cuidado No Entrar |
| BT-91AL | Danger Do Not Enter/Peligro No Entrar |

Return to Home Page
---
For more information Call us at Phone: 800-222-6866 - 714-898-8048 or by Fax: 800-228-1274
or if you prefer you can contact us direct by email
---
© Harris Industries, Inc. 2004

Revised 3/24/04